Top Daily Fantasy Baseball Pick:
Zach Greinke: A former Cy Young award-winner and ERA champion, Greinke was the Dodgers top offseason acquisition. He gets an easy matchup at home in pitcher-friendly Dodgers Stadium against a Pirates team that is prone to getting called out on strikes (second only to the Astros last year). To top it off, his mound opponent, Jonathan Sanchez, finished with an ERA over 8 last season, so run support should not be a problem. Expect the W today. With so many teams trotting out their fourth starters today, Greinke stands head and shoulders above the rest of the field. Just like his wicked fastball, Greinke will help your daily fantasy baseball team strikeout your opponents and deliver a win.
You've got to check out the daily fantasy baseball selection at DraftDay, as they have an assortment of GPPs, custom leagues, early-only leagues, target games- you name it! Also DraftKings has a wide array of guaranteed tournaments for daily fantasy baseball games tonight. Finally, head over to FanThrowdown and check out their new features, including the ability to Late Swap! Definitely worth checking out if you haven't done so already.
Yesterday's Daily Fantasy Baseball Draft Kit Recap
Jordan Zimmerman: Zimmerman was solid, picking up an easy win over the Marlins. He allowed just 1 run on 8 hits with 2 walks over 6 innings, but unfortunately recorded just one strikeout.
Travis Wood: Travis was superb, allowing no runs on just 1 hit and 2 walks over 6 innings while striking out 4 to pick up the win.
Miguel Gonzalez: Miguel took advantage of the Rays weak hitting as he allowed 2 runs on 5 hits and 2 walks over 6 1/3 innings, striking out 4 and picking up the W. For his price, he delivered amazing value.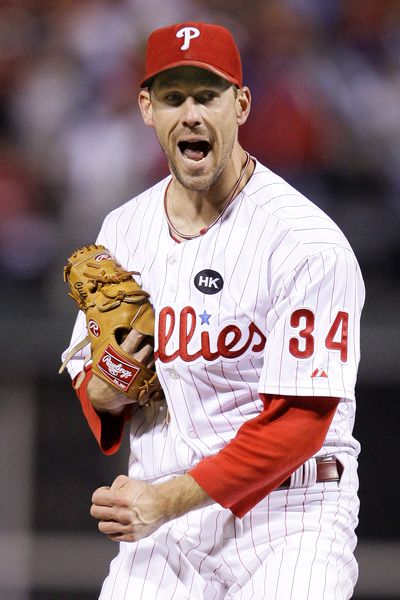 Cliff Lee: Vintage Cliff Lee, he was easily the best pitcher on the night as he carried the Phillies to a shutout victory vs the Braves. He allowed no runs on just 2 hits over 8 innings, striking out 8 in the process.
A.J. Griffin: A very solid debut for Griffin as he allowed only 2 runs on 7 hits and 2 walks, striking out 3 and getting the all-important W for the A's.
Jose Bautista: Joey Bats came through in a big way, crushing a HR to go 1-4 with 3 RBI and a walk. Unfortunately, he sprained his ankle, although he insists he'll be back out there today. I'd check his status before plugging him into your lineup again tonight.
Jose Reyes: Reyes went 1-3 with 3 runs scored, 2 walks, and a SB for a very nice day at a typically thin position.
Alex Gordon: Flash Gordon went 2-4 with a double and an RBI- not too shabby.
Ryan Doumit: Doumit went 1-4 with a double and a run scored, which is a pretty nice day for a catcher.
Rob Brantly: Despite the Marlins offensive woes, Brantly went 2-4 and for his price you should be pretty happy with the effort.
Omar Infante: Infante was solid again as a value play, going 1-3 with a walk.
Jonny Gomes: Gomes went 1-4 with a double, and at his price, we'll take it.
Shane Victorino: The Flyin' Hawaiian went just 1-4 on the night.
Dillon Gee: Gee was a tough luck loser. The Mets bats went silent, failing to score until the 9th inning. He went 6 1/3 innings allowing just 1 run on 3 hits and 3 walks, striking out four in the loss.
Ruben Tejada: Tejada went 0-2 but also drew two walks and at his rock-bottom price that was all we were looking for.
Neil Walker: The entire Pirates offense stalled as Travis Wood shut them down. Walker was no exception, going 0-4 on the day.
Ryan Howard: Howard only mustered 1 hit on 4 plate appearances as he struggles to shake off some rust at the start of the season.
David Wright:  Sadly he was Mr. Wrong today as he went 0-3 with a walk as the Mets went cold with the Padres pitching stepping up.
Jacoby Ellsbury: The Boston bats went silent as the veteran Andy Pettitte made sure the Bronx Bombers avoided a sweep. Ells went 0-4.
Adam Lind: Lind went 0-fer again and is really in a rut to start the season; on the bright side, his price was super cheap and shouldn't have hurt your lineup too much.
Prince Fielder: The Prince failed to deliver the riches today as he went 0-4.
Mark DeRosa: DeRosa went 0-4, but his price was so cheap you probably didn't notice.
David DeJesus: DeJesus went just 0-3 with a walk.
Jeff Francoeur: Frenchy went 1-3 with a run scored- not too bad for a value play!